What makes people unconsciously trust and convey meaning
Brands have a magical effect
The book shows why brands enchant us
It introduces us to the secret of mental maps and supports the successful positioning of brands in the market. Magic is an essential component in the development of brands. They address us unconsciously, influence and enchant our inner state. Thomas Zerlauth takes an unusual look at what lies behind in terms of depth psychology. His book shows why brands have a charisma and at the same time give it, why they touch us and only become alive in the encounter and participation. He describes how the unconscious guides our decisions and how truly magical brands are created.
Haufe Verlag
Author: Thomas Zerlauth
Lector: Peter Böke
Published in January 2023
ISBN: 978-3-648-16691-8
1. Auflage 2023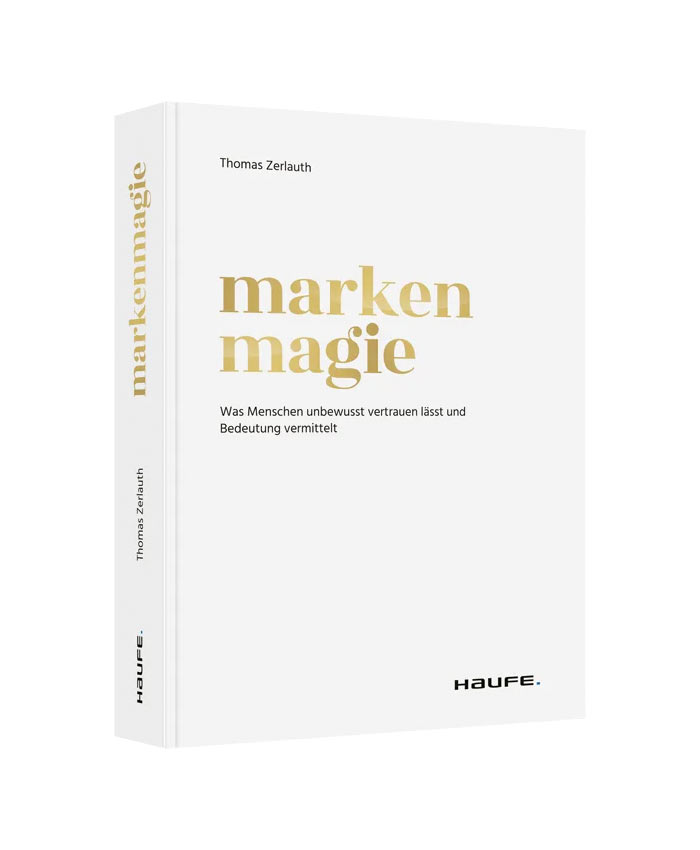 The mental battle for the customer's perception
Brands possess and give charisma at the same time. They speak to us unconsciously, influence and enchant our inner state.
Brands are meaning-conveying levels and living stories that touch us predominantly unconsciously, take hold of us and seduce us to participate. Provided they really succeed in doing so, we embody and endow them with an individual meaning.
Meaning management: the creation of layers of meaning for a brand
Brands are far too often confused with static rules or a specific design, yet they deserve a much more lively approach – from a perspective that places the consumer's experience at the center of attention. Only in the brand does a "something that is silent in and of itself" begin to come alive and reveal its full potential for fulfillment and transformation. It is therefore to be regarded as a coded shell of meaning, which provides something "still soulless" with a strategically defined meaning and seduces the person touched by it into an unconscious encounter, participation and transformation. From the consumer's point of view, the magic of a brand is nothing more than an unconscious reaction to an inner gut feeling and the inexplicable and mostly unconscious spell it casts on him. Implicit, but – and this is really crucial – meaningful. In that it is oriented towards resonance possibilities with our unconscious and does not seek to satisfy (only) superficial ego desires.
Brands are meaning-conveying levels of significance that touch us predominantly unconsciously. 
Provided that they really succeed in doing so, we embody and endow them with an individual meaning. In essence, all good stories and therefore also brands are about excitingly told changes in the life situation of the hero or protagonist. Always. And it is precisely this process – which takes place internally and mostly unconsciously – that is the real secret of strong brands. They change our subjective experience in an enchanting way. Maybe not forever, but – as long as we let ourselves be enchanted by them – again and again. 
Brands as transformational instruments
Brands that consciously address their transformative potential (both internally and externally) define not only logos and great-sounding slogans, but vivid experiential moments and the potential "mini-transformations" of their customers. They foster a sense of belonging and create relational qualities that are meaningful in the broadest sense of the word. The term "brand magic" does not describe a one-sided, logically linear or manipulative self-presentation process, but rather a contemporary invitation to the living, the meaningful and the reciprocal. 
A "charged brand" cannot simply be "produced" by rigid rules or pretended with the help of archetypal symbols and words – although this way is suggested by some advertising specialists. Nor can it be conjured up arbitrarily or presented as a bluntly suggestive formula. In its essence, it is always about a special kind of bringing together, of looking, of deeper listening, of networking and really relating. This leads to a movement inside, a tangible – although mostly unconscious – change that needs to be explored.

Brand magic
What makes people unconsciously trust and conveys meaning
Haufe Verlag
Author: Thomas Zerlauth
Lector: Peter Böke
Published in January 2023
ISBN: 978-3-648-16691-8
1. Auflage 2023